KUFIC LOUNGE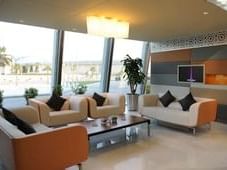 KUFIC LOUNGE
As the first point of contact to the hotel's services, KUFIC lounge gracefully takes you on a trip to the impressive world of sports. It allows you to relax and explore our hotel lobby area. Sophisticated, remarkably designed and brightened with natural sunlight, KUFIC is ideal for a business meeting or social gatherings.
Enjoy the chef's selection of bites, pastry treats and a choice of coffee or tea.
OPENING HOURS:
Open daily from 8:00 am to 12:00 am
Display cakes offer
Display cakes at QR 15 starting from 9pm onwards.