Shopping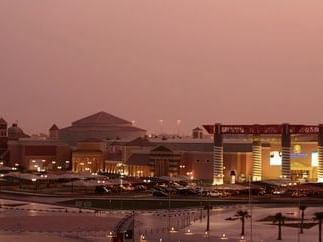 Enjoy shopping in Qatar during your stay at THE TORCH DOHA! Guests have private access to Villaggio shopping mall through an air-conditioned walkway. Shoppers will find famous brands at malls like Villaggio, Hyatt Plaza, City Centre, Landmark and Mall of Qatar.
Set within Aspire Zone, Villaggio Shopping Mall has set the benchmark for retail shopping in Qatar. A unique concept of the Venetian shopping experience complete with gondolas and balcony interior settings, this mall offers the best in entertainment and international retail brands, including themed retail areas, cinemas, an ice rink and a fashionable line of restaurants for a perfect gastronomic experience.

Do not miss a visit to an authentic souk (bazaar) like Doha's Souq Waqif (The Standing Souk). Please bear in mind that during the hot summer months many businesses close for a "siesta" from 12:00 p.m. to 4:00 p.m.

Shopping Hours
Saturday through Thursday: 8:30 a.m. to 12:30 p.m. and 4:00 p.m. to 9:00 p.m. with malls open 10:00 a.m. to 10:00 p.m.

Friday: some shops remain closed all day and others open at 4:00 p.m.
Most malls and supermarkets offer extended shopping hours on Friday.